It took 45 min to get in the store and 45 min in line to check out!
When I spotted this Call Me purse, It was all worth it! I can see Mark standing in line for me in the background of this pic. He was a real good shopper that night! He loves a good deal on kate spade.
Black Friday sales were amazing at the kate spade outlet in Houston! All the girls there were working so hard and the guy in the stock room got a real work-out from going back and forth re-stocking the merch. But the shoppers...now,they are the real troopers! Some people had arms full of bags and stood in line without a complaint for what seemed like forever. The front of the store you could walk around in but the back, it was full of people standing in line. I waited and shopped the back while standing there and found a great Iphone case for $15. I also got this dress for under $100!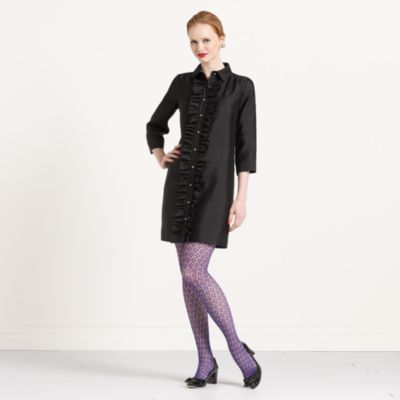 the ruffled Bethany dress! It has been on my wish-list for a few months!
We visited a few other stores but didn't find anything as good as our ksny outlet purchases. I still can't believe how cute that telephone bag is! I am getting it for Christmas so I can't use it until Santa comes. Booo Hooo! I am going to get out my Clyde Typewriter bag to help ease my pain and carry it all of December. I have decided to have my own color of the month combo for December and am going to make tons of red, black and cream outfits. Then everything will match my Clyde and my Call Me Chase too!
Oh, the sample sale is extended another day at katespade.com so go check out the new additions!
xoxox,
Sandee