Cameo Dress $698
Louella Ball skirt $598
It is that time of year again and wedding bells are beginning to ring! kate spade new york does a great job of helping brides look their best. I love the new Cameo dress and especially the Louella Ball skirt in the yellow rose print. I would totally wear this skirt if I were a bride or even a bridesmaid. I may even have to purchase one for myself to wear to a special event. The Cameo dress is so lovely. It has such a vintage look but is shorter and more flirty.
I am making Katie and Hartley skirts for wedding parties right now so I know all about this wedding thing. It is really hard to find a look that expresses who you are and then put it on 6 of your friends! Also, these friends look nothing like you and have unusual body types. They also don't want to be stuck with something ugly that they can't wear again. For casual summer weddings, especially in the South, I am finding that girls are opting for the
striped Katie skirt
for their bridesmaids.
Picture your girls all lined up in stripes! It is just too cute! For more formal weddings there is the
Hartley Ball skirt.
It is different than the kate spade Louella ball skirt because it has three pleats in the front and three in the back.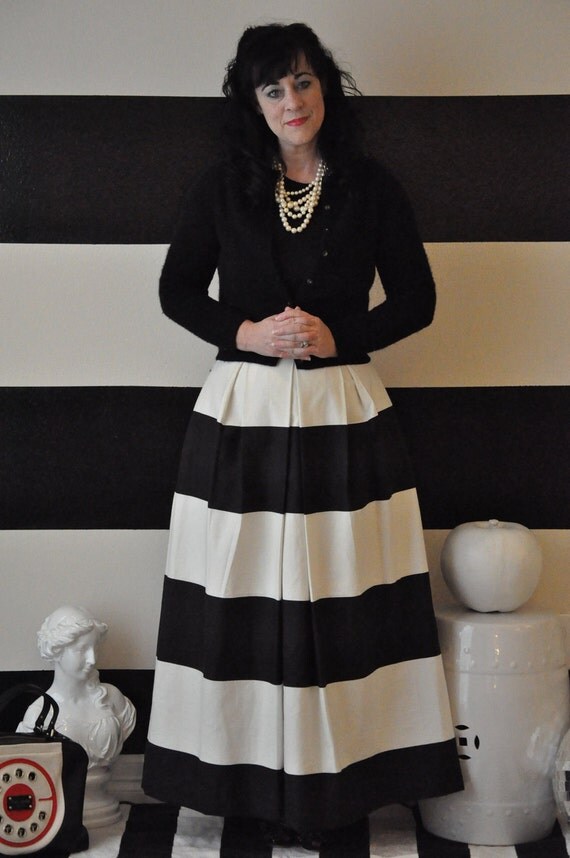 Hartley Ball skirt in black and white stripe
This skirt can be made in any of my Sandee Royalty fabrics. I even like the idea of the Bubble Gum pink in a ball skirt! Who can have too much pink? What about a stripes of bubble gum pink and vanilla? The combinations are endless... my next idea is red or navy gingham. I think I would like a navy gingham ball skirt to wear with a crisp white shirt. It seems so classic.
remember to live colorfully!
xoxox,
Sandee