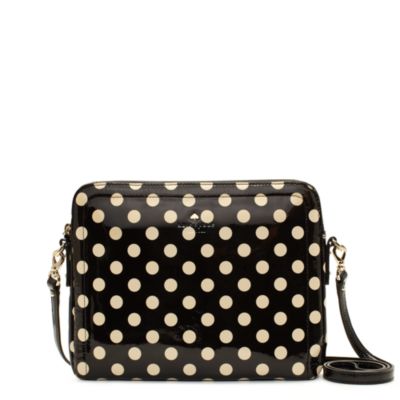 bryce crossbody bag $198 at katespade.com
I never say no to a good polka dot and these bags are very tempting. I usually go with the kate spade version because I like leather but both of these are cute. The ksny version can hold an ipad so that is a plus! I haven't tried out the target bag with an ipad but it looks a little smaller. It is made of cotton fabric coated with a shiny plastic like some of the kate spade bags I have seen before. The quality is much better than if target had tried a fake leather like some of the kate spade outlet bags. I just can't get over the shiny plastic look. I prefer the coated fabric over plastic.
I purchased some iron on vinyl to coat my striped and chevron fabric in my shop. I want to make tote bags and make up pouches. I tried it but it turned out yucky. I bought a new iron and am going to try it out again to see if that makes a difference. I think some companies sell coated fabric for craft purposes, I am going to check it out...
Have a great weekend!
xoxo,
Sandee
**I have changed my blog name from katespade-aholic to sandee royalty because now that I have my own successful brand, I can't really justify loving another brand more than my own...I still love and will post about kate spade but don't have enough time to focus entirely on ksny vs. my own products. I hope you will still hang out with me here anyway!